87 Stories
Share a Story
Jan 01, 2016 - 11:44 AM (GMT)
Roast Pork Fried Rice in NYC Chinatown
By Hungryman11 Story ID: 47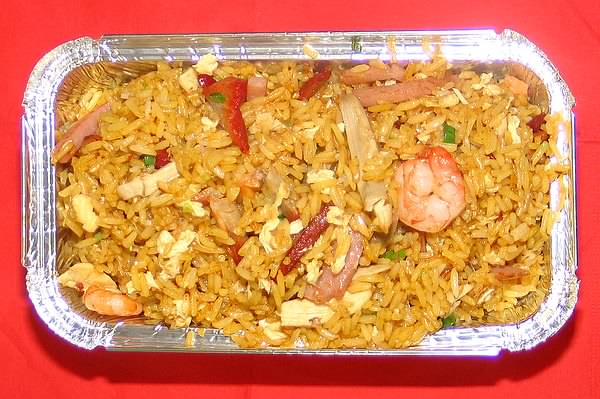 I love New York City – it's busy, full of life, full of people, sounds, scents and it just has a unique buzz and feel. I have spent whole days just roaming the streets of NYC. And I particularly like the "grungier" areas such as the Lower East Side and Chinatown. There is dirt, graffiti, trash, rundown properties - it can be smelly, raw and very real. And the food is generally awesome, and sometimes dirt cheap. I mean, dollar dumplings and a complete lunch for four bucks!
So while drifting the streets of Chinatown one lovely - but a bit too hot and humid - August day, I stopped by a small Chinese outfit at the eastern end of Chinatown. Scanned the menu. Lots of options. Wanted rice and something. Roast pork fried rice sounded adventurous. Ordered it and got a laughable huge take-away portion. As I grabbed the white plastic bag containing the goods, I was questioning how anyone could possibly devour ALL that food in one go. Chinese people really like to feed this city..
I walk for a minute, find someone's building entrance with a nice set of stirs, sit down and dig into this hot, steamy, fragrant and enticing tin container filled with white rice, bits of green onion, cubes of roasted pork and some other bits that I have no idea what are. Mmmmm… gooood, yummy, delicious! I manage to shove and push about 74% of it into my face before I am stuffed beyond stuffed. I put the white flimsy lid back onto the ruffled tin container and leave the rest for later.
That afternoon passes by as I am wandering around Chinatown, looking at buildings and people and just enjoying the day. But at one point my stomach starts to rumble. And then a bit more. Farting appears. I don't think too much of it, it happens sometimes..
More farting. More rumbling. Pressure is building up. Now I'm getting slightly worried. Could it be what I just ate..?
The pressure builds up. More. Then even more. Then even moooore. This is not good. Now bordering very uncomfortable sensations in my butt. Until it suddenly turns into a volcano begging to erupt - pleading on its shaking knees, please let me out!! For fucks sake, let me the FUCK OUT!!!!
I am somewhere in Chinatown among warehouses, some shops and stores. I need to take a giant shit!! But where? Where can I let this evil monster out?? I start running. Cant find anything. My right hand is covering my anus outside of my shorts as I run. It looks very awkward from the other side of the street. Sorry mam..
I am considering dropping my pants behind that garbage container over there to the left. But a voice in my head from my mum from when I was little tells me: "No son, don't you dare!".
Holy crap, this is pain beyond comprehension. Is that a bar??? It IS..!! I run to it, fast. Very fast. My butthole is already heavily lubricated with pre-volcanic matter and is ready to release the lava. The volcano almost rips open the gates to freedom!! I think the gates were actually open, but I manage to force-close them with a full-body effort, including a ridiculous grin on my face.
I get inside the bar. Its empty, its early afternoon! I just want to use the restroom, but I am the only customer in the bar and the staff is staring at me. "One Heineken please!" I say cooler than James Bond would have as I am leaning smoothly over the bar. But behind the facade there is almost unbearable pain.
You know when you have to shit and you get close to the bathroom – and how you then all of a sudden have to shit 10 times more already? It was like that, just that it was already like that long before I entered the bar and I now have to use all my strength, soul, karma, nirvana and help from the gods to stop my anus from caving into the happy release. I am seriously about to burst, pop, explooode, give birth - ohhhhhh it would be sooo easy and feel soooooo good to let it rip right here right now.. "Come on, come on!!! Faster!! Get me that fucking beer!!! Please!!" – the voices in my head or my actual voice – I honestly don't remember..
It comes. The beer. I grab it firmly and take off for the mensroom. I swear to the gods I had wings and didn't even touch the floor as I rocket myself over. It felt like a scene from the Matrix. Oh, and I didn't even take a sip of the Heineken! My pants and boxers drop simultanously, and in slow motion my ass is target-seeking the toilet seat. And as my ass is locked on its target and seeking, so the gates of anus hell that can no longer hold back the behemoth of the dark burst open - and out comes the most violent eruption of shit known to man!
Good God what relief..!! Pheeeeeew..!! Ceasefire..!!! RELIEF..!!! I made it..! Pleasure. Appeasement. Silence. Joy. Happiness. Holy Jaaaysuuuus that just feel sooooooo good, I think to myself as I smile like a little kid on Christmas day. Mission accomplished with perfection. No spill, no damage. Now I'm smiling like a kid who also has his birthday on Christmas day!
I have a sip of that cold lovely Heineken and smile even more as I lean back. There is nothing like taking a giant shit!
Related Stories
---