87 Stories
Share a Story
Dec 15, 2015 - 10:48 AM (GMT)
A wonderful kiss with a total stranger
By HomerNYC Story ID: 30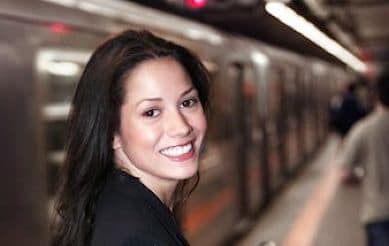 It was about an hour after midnight. I had been hanging out with a friend of mine in Brooklyn this evening just to catch up and talk lives. I had left and was at the subway platform at Union Square waiting for the local subway to take me uptown.
It was a quiet and still night, things had died down a bit and there were hardly any people at the platform. I was at the very end of the platform, and it was just me and another person. A gorgeous girl with long dark hair, fiddling with her phone. I was in an unusually happy mood, and wanted to do something a bit crazy. You only live once, right?
I walked up to her, and said: "Hi, I just had a fun evening with a friend of mine in Brooklyn. I am still in a good mood and thought I'd come over and say hi. What are you up to?"
She said: "Not much, just heading home after a busy day to pack and catch a flight to Toronto in a few hours."
We chat and laugh about Toronto for about a minute. I then change the course of the conversation and say: "I wanted to ask you something. Are you adventurous?"
Her: "Yeah..?"
Me: "Spontaneous?"
Her: "Sometimes.."
Me: "Happy and fun to be with?"
Her: "I definitely think so. My friends say I am.."
I walk closer to her, stand about a foot away from her, smile, look into her eyes.
Me: "Have you ever kissed a perfect stranger?"
She looks down, is a bit awkward and timid..
Her: "Mmm.. no…"
I put my arms around her neck. Or halfway resting them on her shoulders..
Me: "Well.. now is your perfect opportunity.."
I lean in for the kiss, and lips meet. Hers are covered in pink lipstick and I get it all over my face. But it's lovely. It's awesome! I have no idea who she is or what her name is. But I am making out with her, her tongue fooling around with mine. How fantastic!
The subway arrives. We are both taking the same train. We have a fun chat for a little about her trip. We don't exchange numbers. We don't exchange names. We are just two strangers that made out on the platform. I get off, say bye and that was the last I ever saw of her. Life is great!
Related Stories
---